Starline Social Club Presents:AIRBOURNETHE NATIVE HOWLFriday October 7 2022 – Doors @ 8pm$20 adv // $25 dos18+—— Some buildings have a soul. They breathe and sweat and pulsate, holding memories and stories and songs and laughter in their walls. RCA Studio A in Nashville, Tennessee, is such a place… The photos on the walls of the 'Music City' recording facility testify to its illustrious history, with Elvis Presley and Roy Orbison and Willie Nelson and Waylon Jennings, architects of rock'n'roll and country music, smiling down upon visitors. Elvis and The Beach Boys recorded here, as did B.B. King and The Monkees, and Joe Cocker and Tony Bennett. In 1973, Dolly Parton recorded 'Jolene' and 'I Will Always Love You' in the 5,000-square-foot studio in a single day. For Airbourne to bowl up to 30 Music Square West in April of this year with no songs cast in stone, just a pocketful of riffs and a burning desire to make the truest rock'n'roll record of their 16 year career, took a certain chutzpah, then, and a lot of balls. But history shows Airbourne never have backed down from a challenge… In the early days, in their native Australia, Joel & Ryan O'Keeffe's band would load their guitars and amps and drums into a station wagon and drive for 24 hours to play in the sort of bars where the patrons had prison tattoos, more fingers than teeth, and a dangerous lack of interest in having their drinking time spoilt by strangers. The boys would inevitably be met at the venue doors by a man whose only records were criminal ones… "We'd be told, 'If you guys are gonna make a heap of noise I better fucking like it!'" Joel once recalled. "These were the kind of people who wanted a good Saturday night, and if they didn't get it, there was gonna be trouble." It was a tough apprenticeship, but it instilled a fearlessness and a focus in the O'Keeffe brothers. Their dream of escaping their hometown of Warrnambool, Victoria, was underpinned by one simple motto: Rock'n'Roll For Life.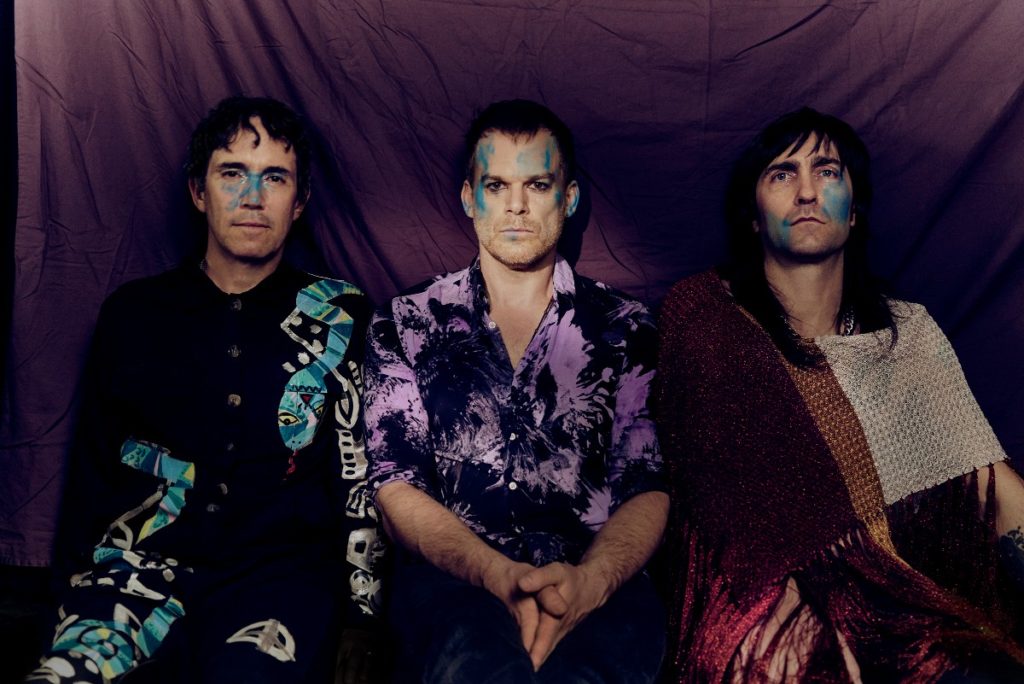 Starline Social Club and (((FolkYEAH!))) Present:Princess Goes to the Butterfly MuseumLorelei K Wednesday March 23 2022 @ 7pm $27 adv // $32 dos 21+ —– Princess Goes To The Butterfly Museum is a trio comprised of vocalist, 
lyricist, musician and Golden Globe and Screen Actors Guild Award-winning 
and Emmy-nominated actor Michael C. Hall (Dexter, Six Feet Under, Hedwig
 and the Angry Inch), keyboardist Matt Katz-Bohen (Blondie), and drummer
 Peter Yanowitz (The Wallflowers, Morningwood). A theatrical sensibility is part of the trio's DNA, especially in live shows, having
 met several years ago on Broadway during the production of Hedwig and the 
Angry Inch. Princess Goes to the Butterfly Museum eschews traditional rock 
instrumentation in favor of a stripped-down synthesizer-and-drum attack,
heard on their debut full-length album THANKS FOR COMING (released
earlier this year), which follows their 2020 self-titled EP. Both have drawn 
praise from Paper, Alternative Press, Associated Press, Consequence of 
Sound, People, American Songwriter, Magnet, FLOOD, Forbes, Huffington
Post, NME, Line of Best Fit, The Independent, Entertainment Tonight and
 more. A wealth of disparate influences flow into Princess Goes to the Butterfly
Museum's songs – the glam, experimental, ambient music of David
 Bowie, Giorgio Moroder's '70s disco productions for Donna Summer, '80s new
 wave dance music, contemporary electronic dance acts like Justice, and the 
roster of France's Ed Banger label.Princess Goes To The Butterfly Museum's album Thanks For Coming was released in February 2021.